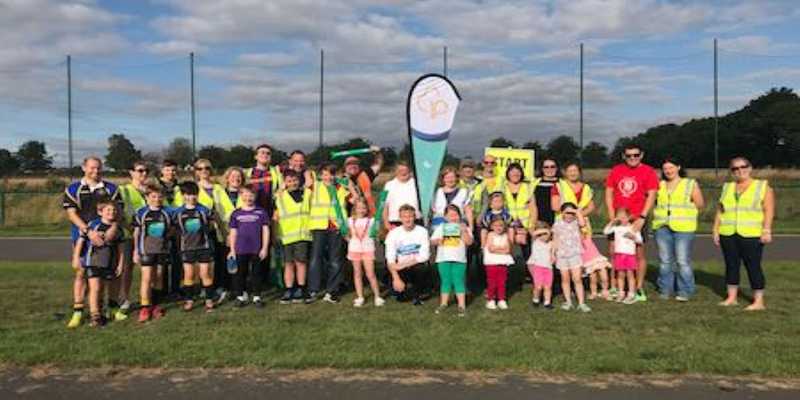 Articles
Let's hear it for the kids! The rise of Junior Parkrun
"Breakfast tastes so much better after parkrun." (Albie aged 11)
The phenomenon that is 'Parkrun' is now a pretty familiar sight. Every Saturday morning at 9am, up and down the country – in local parks, green spaces and the occasional beachfront (check out the Morecame Prom parkrun)…. the runners, joggers and walkers congregate together for a 5k distance. Some runners come along with prams, dogs or dressed up. Many are regulars, others less frequent. Some participants have more of a 'pick n mix' parkrun approach, trying out different ones in the locality. There are always a few first timers to every parkrun, with a welcome that makes you want to return. On occasion there may be a theme  – the Jubilee or a takeover hosted by a local run club… with a treat of cake at the end.
Cheered on and supported by marshals for the entire route, all participant times are recorded and published every week, with remarkable efficiency. It is hard to believe that this is an event entirely run by volunteers and totally free of charge. Each Parkrun has a slightly different atmosphere, some have hundreds of participants, others are a smaller scale affair, some with a little more friendly competition. But what unites them all is a real sense of friendly community spirit. The commitment and dedication of the parkrun unsung hero's really is impressive. Even on Christmas Day morning, these volunteers are out in force from 7.30am, donning their hi-vis vests, setting out the course, and welcoming the participants come rain, wind, hail or shine.
More recently we have seen the rise of the Junior parkrun. A similar set-up to the initial Saturday parkrun, taking place every Sunday morning at 9am, for those aged between 4 and 14, with a shorter 2km route. Parents and carers can run alongside younger children (as long as they leave the 'finish funnel' for the kids!).
Leeds currently hosts six Junior parkruns; Cross Flatts, Bramley, Bodington (Adel), Temple Newsam, Horsforth Hall and Roundhay. With others in nearby Bradford, such as Roberts Park (Saltaire) and Brighouse, with many more popping up in Harrogate, Halifax and Huddersfield. The locations of which can be found by searching parkrun or on the Run Leeds Events page or. These Sunday mornings offer not only a great way for kids and their families to get active in outdoor green spaces, but also an opportunity for children, parents and carers to connect in a social way, something we have all come to realise is so important during the pandemic.
Here are just a few quotes from the junior parkrun participants:
"I loved going to your running club (parkrun) Nana!" (Kingley aged 5)
"Breakfast tastes so much better after parkrun." (Albie aged 11)
"Junior 2km parkrun gave me the confidence to give the 5km parkrun a go. I get a real sense of achievement and now I go to parkrun every couple of weeks." (Lana aged 13)
"I love the fact that parkrun is always so friendly, but I also like to see how I have improved my time and position each week."  (Isla aged 13)
So if you haven't tried parkrun yet, or want to encourage some family time, which is both free and healthy – then why not check out your local parkrun?
Just don't forget to register beforehand – 
https://support.parkrun.com/hc/en-us/articles/201853851-How-do-I-register-for-the-junior-events-
Whether you are a runner, jogger, walker, supporter or fancy volunteering – there is truly a role for everyone to play in this fantastic community!
Here is a big thank you from Run Leeds for everything you do parkrun!