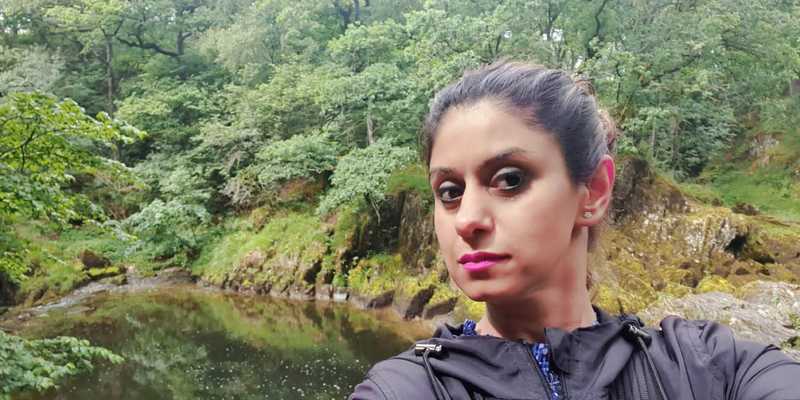 Articles
It's my time to RUN – Neena's Story
"I am so much happier now, finally in my mid-40s I feel I have my own life and can do what I like. I just wish I could have done this sooner – but being a working mum, I just could not find the time."
We met up with Leeds resident and runner, Neena Punnu, who kindly let us join her on her favourite run route around Roundhay Park, although thankfully not at her usual time of 7.00am! We chatted about why she runs, how lock-down actually enabled her to start running and over-coming the barriers that may face some female runners.
Neena is certainly an inspiration, not just for other South Asian women, a demographic that is one of the most under-represented groups, not just in running, but sports in general. But also, for anyone over the age of 40 trying to run for the first time. As a British born, Indian Muslim, Neena moved from London to Leeds in 2004, where she now lives with her husband and three boys.
Neena works as a Project Officer, Stronger Communities Team on a fascinating programme 'Bradford for Everyone' where she leads numerous projects and campaigns encouraging equality of opportunity and inclusion for everyone; bringing people together to create healthier, happier, and safer communities. Neena's other passions include raising money for charity, volunteering, and championing safeguarding in all its forms.
Why do you run?
I first tried running because I wanted to be healthy and active, and to manage my weight better. I am pre-diabetic and have an under active thyroid, so I want to ensure that I stay well, so I don't have illnesses as I get older. Running also gives me the body confidence, to wear clothes of my choice. And more recently I have really started to appreciate the outdoors, and I love the fresh air and natural light. When I run it finally feels like my time, it clears my head and helps me to process my thoughts. It also helps me to plan for work, what I need to do, running really enables me to think creatively.
What does running mean to you?
For me running means freedom and having some time in my life that is for me. I prefer to exercise early in the morning, when it is quieter, and fits around my busy routine of childcare and full-time work. Roundhay park is beautiful, I have my favourite trees and often like to photograph the sunrise. I feel refreshed and ready to work, my exercise achieved for the day. I run alone, but I also like to run and catch up with friends too, we call it TWALKING. It's a brilliant way to get our exercise done whilst chatting away.
When did you start running?
My running journey started in my mid-40s, when the pandemic first happened and lock down restrictions meant working from home. The ability to have more flexible working hours and removing the daily commute meant I gained some spare time. Prior to this, I never felt I had the time to exercise due to the combination of work commitments, school runs, childcare, household chores. I also did not feel confident to run as I felt I did not have it in me! Mainly down to not ever really running before my whole life (unless for a bus) and felt I did not feel fit and strong enough to do it. So, I started to go for longer walks first, which have now turned into running. One of my close friends who is a runner, often came on the walks with me, and encouraged me to run a little. At first it was painful, but now it feels good! I feel stronger than I have ever felt with so much more energy.
Why do you think South Asian women are so under-represented in UK running?
In my case, which is like many of my friends and two sisters, we are simply so busy being mums and the primary caregivers for our families. It can be even more challenging when you are working mums! There are other barriers too, clothing can be an issue as well as modesty. Culturally, depending on the type of family you live in, it may not be the norm for women to run on roads, in public settings, and or even run at all.
What do you think would help to overcome these issues?        
Education and accessible information for all. Family members, in some cases it may be that the whole family need to be made aware of the importance and benefits of running and to be encouraging of this.
Story-telling -sharing motivational and inspiring stories, showcasing how running and walking can positively change people's lives. Having people who you can identify with, who are alike to you and look like you, can be really encouraging and empowering.
Women only running groups or sessions would also help, as well as providing practical help and support with childcare.
Pairing up women, as a support and an incentive. I have this relationship with my female friends and it's working so well – we just don't let each other down, motivating one another to get out, walk or run together.   
Find out the reasons and barriers, do some further research. Especially with those women who just don't run or don't do any other form of exercise.
The availability of modest sportswear, or if its already out there, advertise it more explicitly, let people know where to buy it from. Leggings with skirts or skorts, sport hijabs, may well help women to feel more comfortable doing sports.
Finally, what would you say to anyone out there who would like to run, but hasn't quite found the confidence yet?
I really feel my life has positively changed in so many ways since I started to run; getting in my daily exercise in this way has made me feel so much fitter, stronger, healthier, and happier. I feel free and active!
Those girls and women who are like me – just so busy with life and who lack confidence – I would say find some time – just do it, give it a go, persevere and I bet you, you will love it just like me.