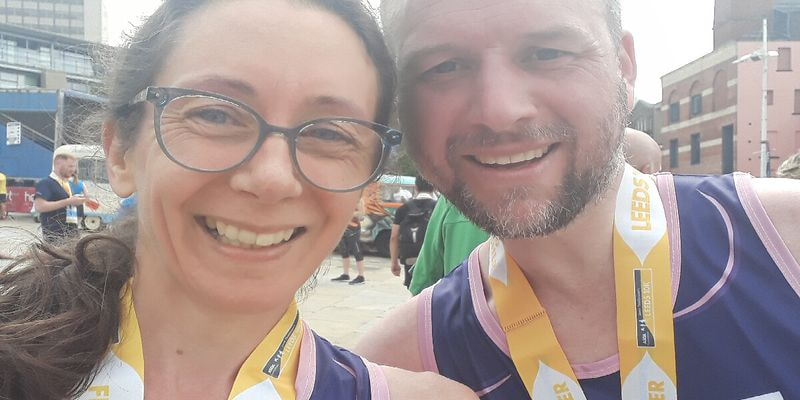 Articles
My Running Story
I'm Eleanor, and I live on the edge of Leeds  with my husband and two daughters. I enjoyed running at school and was OK at it but never trained much and so was fairly mediocre. I took up rowing at university and then ran a half marathon and 20k. Later, as work and then family became bigger priorities  I wasn't doing much apart from cycling or walking a few miles a day.
In late 2018 I was diagnosed with early breast cancer, and had surgery in January at St James Hospital in January.  I was fortunate not to need further treatment but it had a huge impact on my mental health and confidence.
I've struggled with anxiety since childhood and knew I was likely to sink quite low if I didn't find help quickly, so being able to access counselling was really important. Breast Cancer Haven, where I found support very soon after diagnosis, offers this alongside complementary therapies,  became my safe space away from the hospital, where I didn't have to explain myself or worry about feeling angry, fearful or anxious, because I was understood and accepted.
Seeing a request for runners to take on the Leeds 10k to raise funds for the Haven was the starting point. It became my way of fighting back; my goal was to get fit again and run to help others access the support that I had benefited from so much. I started slowly, just a mile or so at first, and built up, joining Active Leeds after a few weeks to boost my strength and confidence. Mostly I run alone, so being around others at the gym is helpful for me. I've joined a virtual running club and some really supportive Facebook groups, thanks to a friend who saw that I'd started running and invited me to join.
Running has given me back the confidence that I'd lost through the effects, physical and emotional,  if surgery. When I run, my anxieties ease, I feel free, competent and confident that I can achieve something. There's one really tricky hill on my regular route and when I start to run up it, I name all the things I'm thankful for. It helps change my thinking patterns and breaks down some of the negativity that so easily takes over. I've had phases of being really angry but when I run, that improves too.
I entered a couple of races in May with my husband, one as a duo running 5k each of a hilly 10k, and another hilly 5k, and was amazed to be the first female to finish at the second one! I had never won a race before! A few park runs kept me motivated in the build up to the Leeds 10k, which I completed in 51:19 and, together with my husband (who was slightly slower but very gracious about it!) we raised over £1100 for the Haven.
Four days later I was back in hospital for reconstructive surgery,  with an amazing female surgeon who listened to me and made me feel safe and valued. I was calm and happy when I was taken to theatre and the running had definitely helped both my mindset and my physical recovery. The first few days were horrible but I was able to start running again after a few weeks and I'm now training for the Abbey Dash and waiting to hear whether I have a place in the London Marathon (which I never considered until this summer!). I've been more consistent with running this year than ever before, and hope to keep going and to encourage others- including my own family! – to become more active for the sake of their mental and physical well being.
Later this month, I'm helping to launch 5k Your Way in Leeds at the Woodhouse Moor parkrun. It's a community-based initiative to encourage those living with and beyond cancer, families, friends and those working in cancer services to walk, jog, run, cheer or volunteer at a local 5k Your Way parkrun event on the last Saturday of every month. Please join us if its something that might help you or someone you care about.
You can find out more information about 5km Your Way here:
https://5kyourway.org/yorkshire 
https://www.facebook.com/Woodhouse-Moor-5K-Your-Way-Move-Against-Cancer-104517730955557/