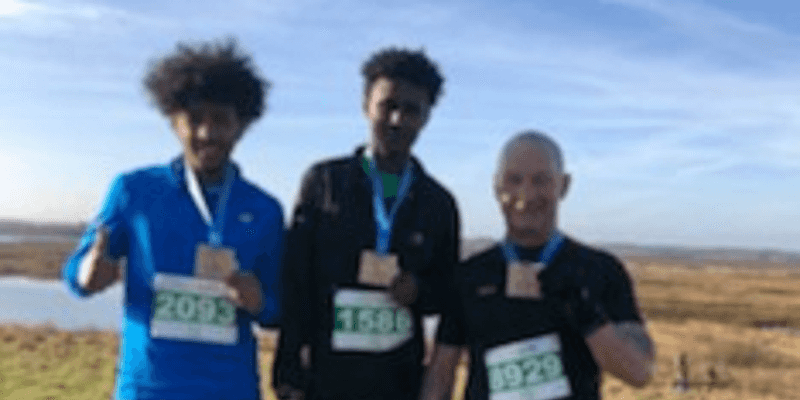 Articles
Running Free
Asking the boys what running means to them, all could easily answer that they feel 'free and proud'.
Here at Run Leeds, we do love a 'run meet'. I particularly enjoyed catching up with Michael, Henock, Temesgen and Bereket for a trail run around Middleton Woods, (and if I slowed them down, they were far too polite to say so).
Michael, who in his previous life has some military background, and was a truck driver, is now a support worker for My Place (Yorkshire) This is an organisation that offers high quality housing and support for young people. My Place was founded by Michael's wife Abbie and her sister Lisa.
Abbie has extensive knowledge of the housing sector, mental health, community projects, and therapeutic play. Lisa has been a social work practitioner for over 30 years, and previously successfully owned and managed an independent fostering agency. My Place was born from both women's professional experience, and the genuine desire to make a difference to young people's lives.
On many occasions their experience as social care practitioners was one of disappointment. The lack of good quality housing, with the right level of support on offer to vulnerable young people was often lacking.  My Place (Yorkshire) now has eight properties, with the ninth one being renovated as you read this! They are a committed, nurturing, and experienced staff team, and a young people's panel. Principally, they have supported and housed a number of unaccompanied asylum seekers aged 16+, many who have come from Eritrea, a country in the Horn of Africa.
There are several complex reasons why young people are fleeing Eritrea, but the most common reason is forced military service.  Eritrea has a legacy of dictatorship and failed government policies. However, there was some hope that when Eritrea gained independence from Ethiopia, the situation would improve for its citizens. However, contrary to expectations, post-independence Eritrea has become one of the region's major producers of refugees. The indefinite national or military service – which has over time degenerated into forced labour, savage repression of political dissent and free speech, and the collapse of public services, has seen a more recent increase in Eritreans seeking refuge.
The definitions regarding Asylum Seeker, Refugee and Migrant are often confused and used interchangeably by the media.  Just to be clear on this, according to Amnesty International:
A refugee is a person who has fled their own country because they are at risk of serious human rights violations and persecution there. The risks to their safety and life were so great that they felt they had no choice but to leave and seek safety outside their country because their own government cannot or will not protect them from those dangers. Refugees have a right to international protection.
An asylum-seeker is a person who has left their country and is seeking protection from persecution and serious human rights violations in another country, but who hasn't yet been legally recognized as a refugee and is waiting to receive a decision on their asylum claim. Seeking asylum is a human right. This means everyone should be allowed to enter another country to seek asylum.
There is no internationally accepted legal definition of a migrant. Like most agencies and organizations, Amnesty International understand migrants to be people staying outside their country of origin, who are not asylum-seekers or refugees.  
Some migrants leave their country because they want to work, study or join family, for example. Others feel they must leave because of poverty, political unrest, gang violence, natural disasters or other serious circumstances that exist there.
Lots of people don't fit the legal definition of a refugee but could nevertheless be in danger if they went home.
The unaccompanied children that arrived here in Leeds over a year ago, seeking asylum, alone and frightened, have come a long way thanks to the support of My Place (Yorkshire) The boys are learning English alongside other subjects at their local college and talked about their future plans to work in Science and IT when qualified.
My Place (Yorkshire) offers way more than a roof over their heads it has provided a nurturing and a secure and safe home, creating a safe space for vulnerable young people who need it most. Birthdays are celebrated, a community edible garden has been built and planted up by all 18 of the young people currently placed. And encouraging sport has played a vital part in their emotional well-being and a real sense of belonging.
As a keen runner and triathlete, himself, Michael took it upon himself to set up an informal running group with the lads. One which he'd like to open to more young people in similar circumstances. Michael understands the huge health benefits of sport, not just physically, but also mentally. When life has thrown chaos, fear, isolation, and upheaval your way, (an experience all too familiar for Unaccompanied Asylum Seeking Children [UASC) ), a running group can provide a release. Training can provide a focus, some structure, and race events can create a feeling of pride and being part of something – we all know how powerful that can be.
Michael has introduced these young people not just to trail running, race events and the many beauty spots of Yorkshire.  But he has also introduced them to the training, discipline, and competition of triathlons. Teaching life-long confidence and new skills.
All this kit and event entries doesn't come cheap though, and the Leeds Running Community has been great in donating trainers and essentials. They are growing lads though! So, if you can donate some kit or race places, then please do get in touch through the Run Leeds website. You can also donate kit through the excellent initiative called Zero Waste Leeds – see link here.
When I chatted to Henock, Temesgen and Bereket they said they feel settled and happy in Leeds and despite missing family from their native home. When I asked how they felt about My Place and the staff team the wide grins and thumbs up said it all! Asking the boys how running makes them feel, their response said so much… 'free and proud'.
As I said goodbye to them, I was reminded of how young these boys were, as they were excited to go to their college prom that evening. This relatively new 'coming of age' celebration, that has become very much part of UK youth culture, I wondered what they would make of it, given how different childhood rites of passage and expectations are in Eritrea.
On Saturday morning at 9am they will probably be found doing parkrun. Embracing life, opportunities and making a positive contribution. We should be proud that Leeds as a City of Sanctuary has enabled this, and will continue to welcome Refugees and those seeking asylum. Like many others who have made Britain their home, and not necessarily at first, through choice. From Sir Mo Farah Olympic GB gold medallist and refugee**, to Mebrahtom Keflezighi the Olympic Marathon silver medallist, and Eritrean refugee to the US. We should be proud of our diverse heritage and continue to welcome those who need refuge. This June we celebrated Refugee Week, but sadly we are too often reminded of the continued hate crimes against those seeking asylum or with Refugee status in the UK. The often inflammatory and misleading media coverage of this issue exacerbates this.
What My Place (Yorkshire) are doing is a great example of how we all should be, in unlocking the potential of young people, refugees and asylum seekers.
It seems fitting to end this article with the words of Sir Mo Farah, a refugee to the UK, who said… "Sport brings people together, irrespective of race, religion or nationality."
** Since this article was written there has been a BBC documentary about Mo Farah, and how he was a victim of child human trafficking. For more information please see link below
Sir Mo Farah reveals he was trafficked to the UK as a child – BBC News