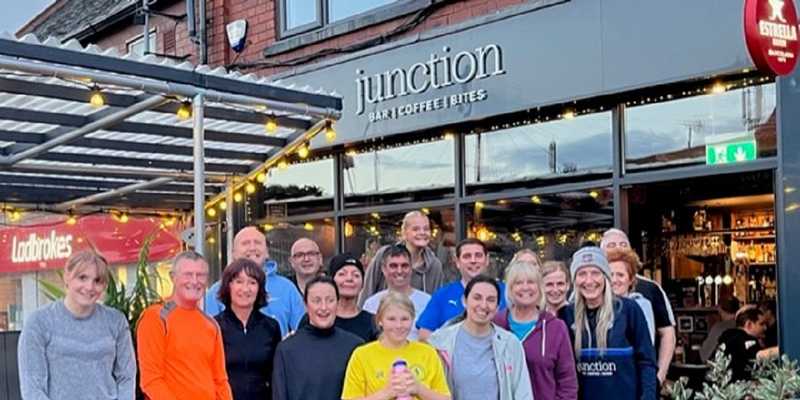 Articles
The Junction Joggers
There seems to be a growing momentum around a newer social running movement. The pub running group. By this we most certainly don't mean the pub run, well known Leeds bar crawls such as The Otley and Headingley Mile. We are instead talking about the growth of social running groups started by pub owners and Brewery's.
In the Meanwood area of Leeds alone, we have seen a two such groups appearing. The North Running Club, who meet outside Springwell Brewery on the last Sunday of every month for a 5k, and the Junction Joggers who meet every Tuesday evening at 7pm. Runs typically start and end at the pub, but instead have switched pints for miles. That said, the group members may still enjoy a post-run social beverage at The Junction cafe & bar!
Run Leeds caught up with Hannah, who set up 'The Junction Joggers', based at this family run business in Meanwood, to find out what this pub running movement is all about.
Hannah, talk us through why you set up this running group 
So, I started the running club for two reasons, one I am passionate about running because it is a free and easy way to stay fit, and secondly, I promote my bar as a community hub for people to come have conversations and meet new people.
We have several groups that meet, including musical, book groups, young parents. As well as offering a number of evening activities for people of all ages and backgrounds to join in. 
I always wanted my bar to be a social place and somewhere for people to make connections within the community. 
So how did you get this run group idea off the ground?
The interest went from 0-20 plus runners on the first day I put the post out on Facebook. 
We have attracted people from a wide range of diverse backgrounds, ages, all with varying levels of fitness. The main aim for all of us, is to stick as a group, and support each other each week. 
Now we have a regular Tuesday run slot, with a big group that meet at the Junction Café and Bar in Meanwood at 7pm. We also have a WhatsApp group which is used during the week for us all to run in smaller groups as and when we can. 
What does this running group mean to members of your group?
"Joining Junction Joggers has added some extra joy and happiness to my Tuesday, and I love the feeling of achievement and sense of wellness! X"
"Having just moved into the area, it is a great way to meet new people and get back into running."
"I joined Junction Joggers to improve my health and fitness whilst meeting new people and feeling part of my community! :-)"
"Junction Joggers is a friendly, local, and aspirational running group! It's got me pounding the streets of Meanwood again after many extremely half-hearted attempts on my own. So, if you need a little extra motivation don't hesitate to join Hannah's fab and fun running group and get back to feeling fit and healthy again!"
"I have a date with destiny in June next year and need to lose weight for this. When I heard a local running club was being started for beginners I jumped at the chance. I have met some lovely people and have help in keeping motivated – perfect👍🏻"
[Phil is getting married next year] 
"I joined the junction joggers as I wanted to get fit, but I also wanted to inspire my daughter to do the same. So we joined the junction joggers together as a family activity. My daughter is 12 and I wanted to ensure that regular fitness is part of her thinking. This was a great opportunity to get involved with a group that is central to my community, and has enough mixed ability that we can all fit in without the pressure of a more established and serious running club."
It is clear to Run Leeds that Hannah has done a fantastic job in creating a real community running group for all abilities with the Junction Joggers! Any final words from you Hannah?
As you can see from the quotes, and many more like this, people have really engaged with this run group. It is overwhelming, and I am unbelievably touched to have started such a wonderful addition to the community, from my little bar. I couldn't possibly have imagined it turning out this well. We have now grown so much; we are looking at splitting the group so we can add more members! On average two or more people are messaging each week to join in.
You certainly have started something Hannah! Great to hear and thanks for taking the time to chat to us here at Run Leeds. Best of luck to your fantastic community venture and all the Junction Joggers 😊