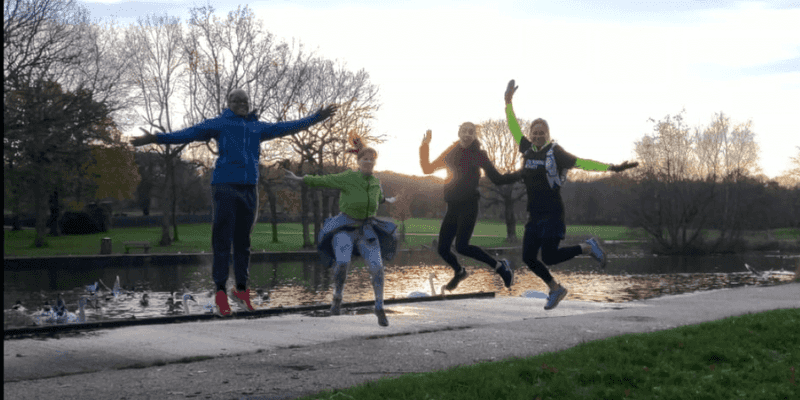 Articles
The Running Charity
"We are an independent charity harnessing the power of running to support young people who are experiencing homelessness or manage complex needs."
Run Leeds had the pleasure of catching up with Liz Adams. A keen runner herself, and member of the Valley Striders run club. Liz is also responsible for setting up and developing the Leeds branch extension of The Running Charity, which began in 2020, just before lockdown. Despite this initial challenge, the charity is already making it's mark in supporting vulnerable young people in Leeds.
The Running Charity is an independent charity, that has been going for over a decade now. What started in London as a pilot scheme with twelve young people, based in Kings Cross, is now a national organisation, guiding and inspiring hundreds.
Liz was able to detail for Run Leeds, just what it is that this amazing charity does for young people aged between 16-25, and how it "harnesses the power of running to support young people who are experiencing homelessness or manage complex needs."
The Running Charity Leeds, currently doesn't have a permanent base as such, but utilises available local outdoor spaces for running and coaching activities with their young people, taking a flexible approach to go wherever is easiest for them to meet. Sessions are mainly in the parks and green areas of Potternewton, Middleton, Armley, Harehills and Temple Newsam, and they currently support a wide range of young people in the Leeds District.
Many of the young people involved have experienced homelessness at some point, but the charity also supports those aged 16-25 to navigate a wider range of complex needs. Such as those facing mental health issues, or going through gender reassignment.
The support offered is a more holistic combination of physical and emotional well-being activities. They deliver running coaching and youthwork through inclusive sessions. This can include one-to-one confidence building, group runs, alongside a variety of wellbeing activities, all free of charge.
The power of running is a key focus and you will often find these young people attending local parkrun events, but the Charity also organises bigger 'Adventures', teaching life skills that will help with employability and future situations. The London hub has recently taken the young people they support on a residential in Snowdonia. The Manchester group will be up next and the Leeds group will be going this August. These exciting experiences in the great outdoors include camping, cooking, parkrunning, hiking, open water swimming, kayaking, to provide an adventure experience that they will never forget.
Like many of us that watched and were incredibly moved by the Netflix documentary Skid Row Marathon, The Running Charity were equally inspired and, in many ways, have recreated something similar (and more), aimed at young homeless people. For those of you who haven't seen the documentary, it is a true story about a criminal court judge that starts a running club on LA's notorious skid row and begins training a group of addicts and criminals to run marathons. The documentary follows four runners, and how their lives begin to change. From the streets of LA, tackling the pull of homelessness and demons of addiction, to run marathons around the world. Liz was lucky enough to be at the UK premier of Skid Row, attended by Craig Mitchell, the resolutely principled Los Angeles-based judge who featured in the documentary. This was where she first heard about The Running Charity.
No stranger to media either, The Running Charity has also recently featured in a short film about the transformative power of running, called 'I Run On', a really good watch, and also provides some further insight about what the charity does. Check it out using the video link below:
The Running Charity currently works with a number of other partner organisations in Leeds, who refer young people to be supported by Liz and the team. These include Our Way Leeds, Resurgo Spear, Gender Identity Development Services (GIDS), Getaway Girls and are about to add The Refugee Council to that list.
The Running Charity have also worked with Generation Green, a project that is part of the Yorkshire Dales National Park, taking young people on day trips to the Dales and experiencing the benefits both mentally and physically of areas of outstanding natural beauty.
They are always on the lookout for new partner organisations though, so if you are aware of any, please do get in touch (contact details are provided at the end of this article).
If you would like to find out more about The Running Charity, and all fantastic things it has been doing,  or you are interested in how to donate, make referrals, volunteering opportunities, or virtual runs, then go to the website link: Home — The Running Charity
For further details or enquiries regarding the Leeds hub, you can contact Liz Adams via email on: liz@therunningcharity.org
You can also follow and support  The Leeds Running Charity social media:
liztrc_leeds (Instagram) and @LizTRC_Leeds (Twitter).
The Running Charity national:
The Running Charity (Instagram) and @Running_Charity (Twitter).