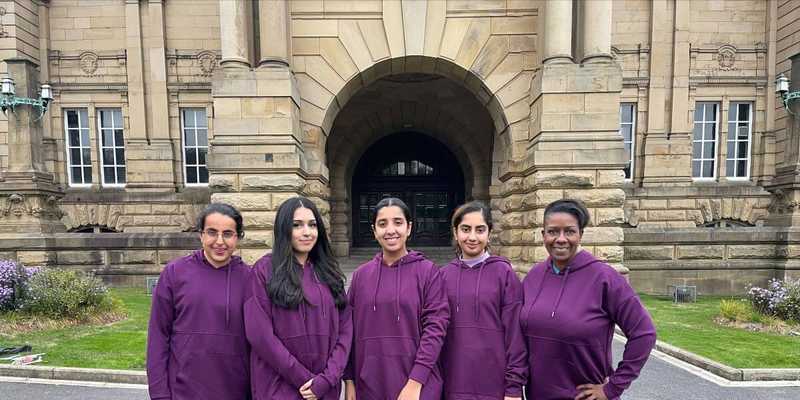 Articles
Together We Are – united through running!
"Having visible representation is an extremely important factor that will make women and also young girls feel like running is a safe place for them."
Run Leeds had the pleasure of meeting up with Sahar from the organisation 'Together We Are', to chat about running, and what has motivated her to encourage others to be more active. We met in the beautiful Lister Park, home to one of Bradford's biggest and most diverse Parkruns, and where Sahar and her group regularly meet to run and play other sports.
Sahar is a truly inspirational young woman, and at just 21 has not just set up Together We Are but is now qualified as a Leader in Running Fitness, a Coach in Running Fitness, a Ride Leader for cycling, and recently herself and members of her group completed the funetics training which promotes fun athletics for kids.  When she is not encouraging women and children from all backgrounds to be active, Sahar also works as a British Sign Language Specialist Support Worker in a school where she supports deaf students in an education setting. 
Sahar, tell us a bit about 'Together We Are… Runners' and how it came about?
I set this group up officially in February 2022, shortly after I gained a Leader in Running Fitness qualification with England Athletics. Creating a safe space for women in the same position as me was important, because I am passionate about making fitness accessible for all. an exciting moment which has had such a positive impact on us, is when we were officially chosen by England Athletics to be part of a Racial Inequality Pilot Programme. This aims to learn from groups around the country about the barriers that women of colour experience in the running world, and then use this understanding to support the formation and development of new groups in the future! They provided 'Together We Are… Runners, with some funding to break down these barriers, such as access to modest clothing, equipment, and the chance for the women to gain qualifications in running. Since then, they also helped me to gain my Coach in Running Fitness, which has given me lots of technical knowledge that I now use to support my running group.
Why did you decide you to set up this running group for women?
I am a South Asian woman from Bradford and when I started running in lockdown, I didn't see many women from my background doing the same in my local area. Having visible representation is an extremely important factor that will make women, and young girls feel like running is a safe place for them. It will also show them that they belong in that community, just as much as anyone else. I noticed many girls stop getting involved in fitness once school ends, due to barriers they may experience as well as confidence levels, so I want to support them to get out and back into it.
For myself, joining other running groups in the past felt nerve-wracking, because I felt there was an expectation to already be a good and confident runner. The term 'running group' itself always seemed intimidating to me. I was worried about being judged for my technique, speed and my lack of specialist running equipment. So, this group takes away all those requirements and welcomes people who may have not done any physical activity since leaving school. We all must start somewhere!
I absolutely love this group, because it is something that I so desperately wanted and needed when I was at the start of my journey, so I'm really privileged to be that person for others. Our sessions are so much fun. We don't just run. Together we build confidence, together we build friendships and together we break everyday stigmas.
TOGETHER WE ARE… RUNNERS!
What does running mean to you and the members of the run group?
For me, running is a space where I can improve my mind and body, whilst also setting myself goals which keep me motivated.
For group member Yvonne, running…  "Helps me reduce my stress levels, as I have a very demanding job, and I can do this whilst taking in the fresh air".
Another member Zohra says… "For me, running is about trying to have time for me and improve my physical and mental health".
Saima, who, like Zohra, was one of the first members of the group, says "It means exercise, escape and can even be meditative".
When did you start running? 
I started running in 2020 during lockdown, as a complete beginner, using the Couch to 5k app. I hadn't done any sport since leaving school, so it took dedication, but it has totally changed my life.
In terms of the group, there is such a variety of fitness and ability, which is what makes us so special and unique. Some started running when this group was set up this group around 7 months ago, for others only 2 months ago. Some members have run as a hobby in the past and recently picked it up again. We are always keen to welcome new members.
Why do you think women from diverse backgrounds are so under-represented in UK running?
 Yassmine, who joined the group a few months ago explains why she thinks this in the case… 
"Our parents' generation didn't understand that women also wanted to keep active, and so perhaps they are embarrassed. It's just not seen as visibly in other countries like Pakistan".
Amal, who also did the Leader in Running in Fitness course and is a member of the group, believes there are multiple reasons…
"Safety concerns when running whether that be injury, road safety or crime rates are big factors. The importance of understanding cultural barriers, a general lack of understanding, as well as psychological barriers, and specific personal reasons such as disabilities and/or health conditions."
Zohra's view is that…
"Running has never really been considered important or a priority for women from some ethnic and Muslim backgrounds. The focus for a lot of women is the house chores and bringing up children, this is what is considered important, not focusing on running. But the more we can normalise female running groups and encourage other women to be active, the more we can help to try and overcome this and shift the focus".
Yvonne adds that…
"Many women don't feel comfortable with the idea of people watching them running. They feel embarrassed as there are not many people from diverse backgrounds in running clubs. I think the running club that Sahar has started will help to attract people from diverse backgrounds because people that have joined represent that".
Saima reflected on how running clothes are often not considered to be modest wear, and the outdoors is also not everybody's cup of tea.
What does the group think would help to overcome these issues?
 "Having childcare and making time for regular running would help overcome issues particularly for me and having the right gear!" Zohra says.
Yassmine believes more Pakistani runners in TV would be a positive change.
Saima explains how more modest attire in shops is vital.
Amal suggests raising awareness using posters in local communities about the health benefits, this will help to overcome the issues. Creating more running groups that are targeted at women from these backgrounds and tailor it to their needs. She also raises an important idea "Have discussions or focus groups to specifically understand why they don't run and come up with solutions together. Run in groups in safe well-lit areas to begin with if possible."
What advice would you give to anyone thinking about giving running a go?       
Yvonne highlights something that is also one of Sahar's key messages…
 "Our group has so many different fitness levels and abilities, so you don't feel embarrassed. It is also a good way to make friends and socialise".
 Yassmine offers… "Find a group, it can be tough to keep yourself motivated on your own!"
 This great piece of advice from Saima…
"Try it at least for a month, don't give up on week 1. You don't know what you are missing."
 And finally, Amal's advice…
"Take it easy. Don't overwork yourself and listen to your body when it needs rest. Don't compare your progress with others and remember 'slowly is the fastest way to get where you want to be'".
Thank you so much to Sahar and all the members of this fantastic Running group 'Together We Are… Runners',  for taking the time to talk to Run Leeds. You have provided a real insight into the challenges faced by women from diverse backgrounds when it comes to running, and how you are breaking down those barriers quite literally one step at a time! You and your group are fantastic role models, not just empowering other women to enjoy the freedom to run, be active and healthy, but future generations.